Why Woodface?
Professional production and professional assembly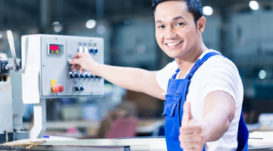 There are many companies on the market that offer "custom-made cabinets". Most of them are semi-amateurs who have somewhere to cut and trim the material, at best their own small joinery workshop where they try to make the furniture. Woodface Furniture utilizes state-of-the-art computer-controlled machines that guarantee world-class quality and precision. By using on-the-dot laser measuring instruments, complete and accurate information goes into production, making high quality furniture really tailored to your liking. The time when a cabinetmaker spotted the furniture according to the discovered unevenness, planed the wood and made a lot of dust and disorder is in our past. Our skilled assemblers arrive, assemble your unique construction in just a few hours, and carefully clean up all traces of their work before leaving.
Unique, modern and timeless design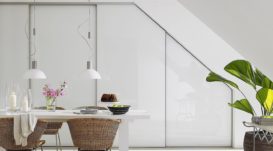 Over 25 years ago Woodface introduced the term "Cases on Peace" to the Czech Republic. We are still trying to be something special. The competitive door frames currently sold on the Czech market come either from Poland or from China. Because they all copy each other, the appearance of the door is very common looking and the grip comfort is at best average. In pursuit of the lowest price, to the detriment of quality, the door frame is almost like chocolate aluminum foil. They simply begin to deform under their own weight over time. We would like to show you at our store a deceptive collection of "common" doors on the Czech market and you can compare these with ours. But we do not overdo it. It is true that the guarantee – two years given by law is likely to last.
The design of the doors we use is unmistakable, the original design and the quality of the travels we use are really exceptional – we provide a lifetime guarantee on the sliding door wheels.
Try our sliding doors, their smooth running and quiet, dependable functionality. Know for yourself the difference in quality that sets us apart from others.
Warranties
The Woodface brand originated more than 25 years ago. It is therefore a guarantee for any complaints that may arise in the future. We will be here to help you unlike a joiner or a small firm who might try to cheat you mainly because they are not counting on any guarantees in the future. Such a person or firm usually cease to exist before the 2-year warranty is warranted.
Woodface manufactures all of its furniture in the Czech Republic. The components for sliding doors are supplied by RAUMPLUS from Germany. Hinged door hinges, pull-out drawers and pull-out shelves are from the world-reknowned BLUM brand (originally from Austria, now a multinational company).
Guarantees provided:
– "24 months for all used materials and work"
– "Lifetime warranty for BLUM components"
– "Lifetime warranty on RAUMPLUS sliding door mechanisms"
Quality of execution: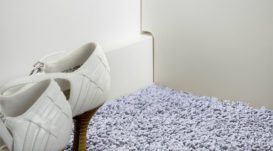 Our high technology production equipment cuts and feeds absolutely cleanly and precisely. You will see an absolutely minimal gap between the board and the edge. All cuts and holes in the furniture are preprogrammed for fabrication on a CNC machine. This is the only way to maintain the precision and cleanliness of the worked piece. The best fitter with a handheld tool cannot match the results of a computer-controlled machine in production. On our products you will not find pieces of chipped material and jagged edges from the hand-held tools used when fitting in place a piece that the joiner tried to repair with wax, sealant or some other material.
Long life: Before ordering the furniture, ask how the parts are joined together.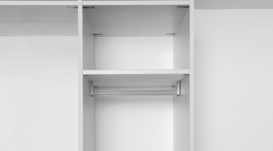 Most small manufacturers use the so-called "confirmate", which is basically a screw that screws into the board. If you would like to dismantle your furniture in the future and move it to another location, it will never have its original strength and it will wobble. Not to mention the great risk that the "Confirmate" assembler will tighten too much on the board, it will rotate and the furniture will not hold firmly from the beginning.
Another amateur variant are the so-called plastic angles, which are screwed into parts connected to each other. The aesthetic appearance is terrible, the strength is very questionable and, moreover, the plastic element prevents 100% use of the storage space.
Woodface uses what are known as "eccentrics" to connect material. This connecting fitting includes two pieces that are fastened to the plate and locked metal to metal with each other. They allow an endless repetition of disassembly and subsequent connection of parts. However, this fitting requires state-of-the-art manufacturing technology and so most manufacturers are unable to use it.
Variability: What if you want to change some interior parts of the cabinet in the future?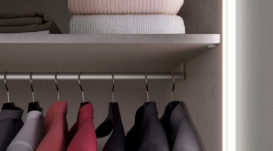 Virtually no custom-made furniture from our competitors allows for the changing of the internal layout without any dismantling and subsequent reassembling back into place. Especially in the case of a cabinet in a niche, it usually means damaged plaster and possible scratching of the floor or ceiling.
Woodface furniture is designed with a special fitting so that all the parts are folded inside the recess without having to assemble them outdoors and then slide the cabinet in. This will not damage the floor, walls or ceiling. If you want to change the layout, just replace some parts inside the cabinet without having to completely disassemble it.
What to look for in furniture offers?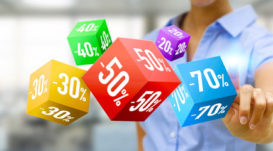 1. Always compare the same thing
Cheaper offers are not always really cheaper. Thanks to the optimization of our production, Woodface can work with a truly minimal margin while maintaining high quality.
In the case of a tender where our offer is higher than a possible competitive price, we will perform a comparative analysis of all the offers for free and explain clearly how the bids differ and where the price differences occur. We do not say that we are the cheapest and due to the higher quality of our hardware and materials, we cannot even be. Usually, however, the price offer of a competitor cuts corners and does not contain everything or are of a much lower quality. Let us explain what the differences are. If the modification is not contrary to our professional honor, we will optimize our offer as much as possible to match your budget.
2. Do not make unnecessary compromises
Tailored furniture has a lot of benefits, but at the same time, it requires you as a client to become a little bit of an expert in order to properly evaluate offers. Do not make unnecessary compromises and do not become convinced that something less is enough. Don't feel that nothing is perfect for you and your privacy and, please remember, that quality custom furniture designed by or for you can substantially raise your property value and realistically make the real estate more attractive.
Let some furniture details be shown in advance, not just blurry photos from your mobile from some realizations. Custom built furniture should make you happy for many years, not reminding you of anything that could have been better made or fitted.
"Keep your furniture satisfied for many years"